RISEN3D L A U N C H E R R E A D M E - Version 9.1
---

IWAD LOCATION
The launcher automatically searches specific directories to locate your Iwads.
These are referred to in the documentation as Compliant Iwads

Assuming you installed to C:\Risen3D, any of the following directories can be used:
C:\Risen3D
C:\Risen3D\Iwads
C:\Risen3D\Data
Alternatively, you can use DOOMWADDIR to set the path as an environment variable, this
method is used by other ports such as ZDoom to establish a common Iwad path.
The following examples assume your Iwads are contained in the C:\Iwads directory.
For Windows XP, Vista, Windows 7, 8 and 10
Open My Computer / Properties / Advanced / Environment Variables and add the following:
Variable DOOMWADDIR Value C:\IWADS
If the Launcher indicates that it was unable to find any Iwads, you can add your own user
locations by using the method illustrated below ...

If you choose your own user defined locations then all Iwads must be user defined, you cannot
mix user defined locations with Risen3D Compliant locations or vice versa.
Once a compliant location is detected this takes precedence over user defined locations.
If you don't have a commercial Doom wad you can install the shareware version which will allow
you to test drive Risen3D but limiting you to the first episode of nine levels of the original Doom release.
GETTING STARTED
The launcher will initially start-up in an easy straight out of box format ...
Note: savegames can be launched directly if selected instead of a map number.
Installing a wad file to the launcher's Installed games list as illustrated below ...
SETTING UP THE ZIP LIBRARY
Populating the launcher's Zip library by specifying the location of your zipped wads folder,
you will need to select Advanced options to have access to this feature ...
An alternative method of installing zip files to the Installed games list by right clicking on
the selected zip file as illustrated below ...
Installing a wad to the games list makes the game more easily accessible with its own unique
savegame location, then when uninstalling from the list any redundant files created by Risen3D
are removed. Installing a wad is simple, requiring just a click of the mouse.

PLAYLISTS
Music files can be loaded into games by creating playlists which replace the existing music,
the following formats are recognised - ogg, mp3, mod, it and s3m.
The launcher provides a simple tool for creating playlists, more advanced editing such as
adding non standard map numbers can be done using a text editor such as notepad.
Tip: Read 'Help' located on the menu bar of the playlist creation tool.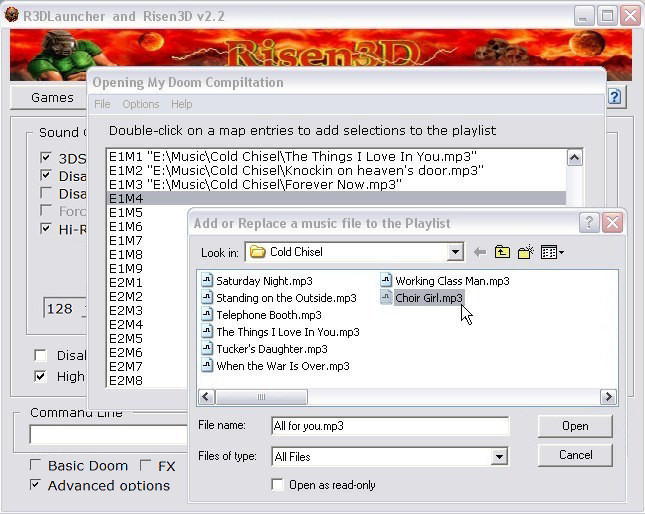 To play - just select a playlist and activate the 'Manual' button so it indicates Load.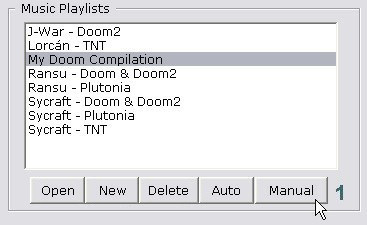 AUTO PLAYLIST
Auto playlists can be created by linking an iwad type to a preferred playlist.
This ensures when switching game types your preferred playlists are always linked.
To create an auto playlist group just right-click on a selected playlist and link it to an
iwad as illustrated below, the procedure can then be repeated with other available iwads.
To set auto playlist mode - just activate the 'Auto' button as illustrated
MISCELLANEOUS
Playlists are automatically generated when any of the Doom soundtrack mixes available
from the music section of the Risen3D website are installed.
CREATING SHORTCUTS
Enabling the Shortcut creation option provides a means of creating shortcuts of your favourite
wads, which are stored in a folder either in the Start Menu or Desktop folder.
MODEL PACK CLEANUP TOOL
This tool provides the best method of removing redundant or corrupted model packs.
If a major model pack update is required then it is important to use this tool prior to
installing the new updated pack so as to remove any files or folders that may have
become redundant.
CAUTION: If you have customised any components of the official Risen3D
model packs then backup your work - otherwise it will be lost.
Special notes ...
Any model pack removed with the above method will need to be re-installed.
The model cleanup tool is always resident regardless whether model packs have been
installed or not as it must be assumed there are orphaned elements still present.
Important: If you intend re-installing a model pack after having just used the cleanup
tool always close down the launcher prior to installing the new pack.
CREATING PROFILES BY USING SHORTCUTS
Shortcuts can be used in much the same way as the now redundant Profiles method,
for instance if loading wads that contain only resources such as sound or dehacked lumps.
Prior to creating a shortcut use either of the following methods ....

Method 1

Locate your resource wads in a folder of your choosing and then in the launcher's
'Command line parameters' box add the following; -f <path of resource file>
Example; assuming this was your resource file path; -f c:\psxsounds\psxsound.wad
Note if your resource path has spaces you will need to use inverted commas as such
-f "c:\my doom resources\psxsound.wad"

Method 2

Place your resource files in the Risen3D\Data folder and add -data <resource file>
Example; -data psxsounds.wad


SPECIAL NOTES
There are many enhanced addons available from the Risen3D website, these include ...
Model pack
Hires textures, hud patches and skybox pack
Music and sound packs
3D Sound effects
DISCLAIMER
THE R3DLAUNCHER SOFTWARE IS PROVIDED BY THE AUTHOR 'AS IS ' AND ANY EXPRESS OR
IMPLIED WARRANTIES, INCLUDING, BUT NOT LIMITED TO, THE IMPLIED WARRANTIES OF
MERCHANTABILITY AND FITNESS FOR A PARTICULAR PURPOSE ARE DISCLAIMED. IN NO
EVENT SHALL THE AUTHOR BE LIABLE FOR ANY DIRECT, INDIRECT, INCIDENTAL, SPECIAL,
EXEMPLARY, OR CONSEQUENTIAL DAMAGES (INCLUDING, BUT NOT LIMITED TO,
PROCUREMENT OF SUBSTITUTE GOODS OR SERVICES; LOSS OF USE, DATA, OR PROFITS; OR
BUSINESS INTERRUPTION) HOWEVER CAUSED AND ON ANY THEORY OF LIABILITY, WHETHER
IN CONTRACT, STRICT LIABILITY, OR TORT (INCLUDING NEGLIGENCE OR OTHERWISE) ARISING
IN ANY WAY OUT OF THE USE OF THIS SOFTWARE, EVEN IF ADVISED OF THE POSSIBILITY OF
SUCH DAMAGE.
---
<![if !supportEmptyParas]> <![endif]>
Report all bugs to Abbs - attach the current launch.log, risen3d.cfg and risen3d.out file